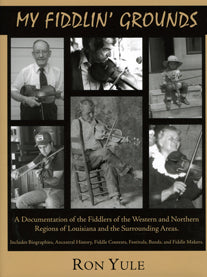 A Documentation of the Fiddlers of the Western and Northern Regions of Louisiana and the Surrounding Areas
by Ron Yule
"The most thorough, heartfelt compilation of information on old-time country fiddling accumulated to this date. Only a fiddler would (or could) get some of the information Yule has obtained."
—Susan Roach, Folklorist, Louisiana Tech University
"A unique book with a wealth of information on early country music in Louisiana. No book on any aspect of Louisiana music contains as much detail on folk fiddlers and fiddle contests."
—Kevin Fontenot, co-editor Accordions, Fiddles, Two Step, & Swing
Includes biographies, ancestral history, fiddle contests, festivals, bands, and fiddle makers.
Hardcover, 352 pages, ©2007
ISBN: 9781887366786