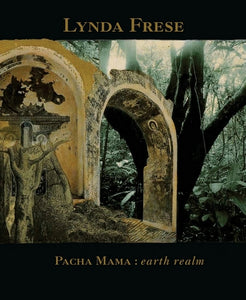 Pacha Mama: earth realm
by Lynda Frese


The images in Lynda Frese's Pacha Mama: earth realm imagine a set of religious iconography using ideas borrowed from the Italian Renaissance and indigenous cultures of South America. In this collection, the Saints and the Nature Spirits are fused together in hybrid landscapes. The narrative is about the South American earth goddess Pachamama, who appears as a divine entity to us in the natural world. Themes of redemption and enchantment, death and renewal are echoed in the texts, poems and Sanskrit prayers.
Frese's photographic images come from ancient sites ranging from pre-historic Europe, the jungles and lands of the Mayans, to Louisiana's Gulf of Mexico, where the artist lives. Transparent layers of egg tempera paint,  made with antique pigments and egg yolks from the studio environments where she is working, are painted over the printed collage images.
With text contributions by Louisiana's poet laureate Darrell Bourque,  yogi Michele Baker and dancer/filmaker Kathi von Koerber; including an introduction by artist Lynda Frese.

Lynda Frese has made south Louisiana her adopted home since 1986. From Rhode Island, she moved to the west coast to study art, receiving both her BFA and MFA degrees from the University of California at Davis. As a graduate student she attended the Skowhegan School of Painting and Sculpture in Maine. Ms. Frese joined the faculty at the University of Louisiana at Lafayette in 1986 where she taught primarily photography for 30 years. She received the 2013 Distinguished Professor award for her scholarly work and is now Professor Emerita.
Ms. Frese maintains a studio in Breaux Bridge, Louisiana and has been an artist-in-residence in Italy, France and Costa Rica, including the Rockefeller Bellagio Foundation, the Liguria Center for the Arts and Humanities, ArtStudio Ginestrelle and the American Academy in Rome. Frese's work has been exhibited in South America, Europe and across the United States; it is represented in private and public collections including the Center for Photography at Woodstock, NY, the Houston Museum of Fine Arts, the San Francisco Museum of Modern Art and the Ogden Museum of Southern Art. Ms. Frese received Artist of the Year at the 2016 Louisiana Cultural Awards for her sustained work celebrating the culture and history of the south.
 ISBN: 9780615453354
Softcover, 64 pp, ©2011