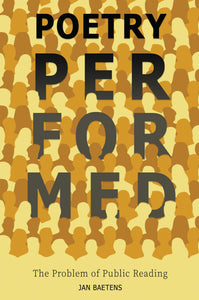 Poetry Performed: The Problem of Public Reading

by Jan Baetens
About the Book
Today, public readings have become a vital part of any form of literary life. Orality is the keyword of contemporary writing. Yet do we know what actually happens when a poetic text is read out loud? How are signs on a page transformed into a stage performance? What does it mean to move from a text meant for the eye alone to sounds and images presented in front of a living and actively participating audience?

Poetry Performed: The Problem of Public Reading answers these questions, but not in abstract or general terms. Instead, author Jan Baetens examines how authors themselves live this experience of reading out loud and how they write about it in their works. Taking its departure from Balzac, this book revisits a wide range of masterpieces of nineteenth- and twentieth-century literature, including works by Marcel Proust and James Joyce, and contains a series of close readings of contemporary artists (poets, performers, directors, comics authors) who try to invent new forms of public reading.

About the Author

Jan Baetens is professor of literary and cultural studies at the University of Leuven (Belgium). An award-winning poet (in French), he has widely published on contemporary French poetry and the aesthetics of constrained writing. He has a special interest in word and image studies and frequently publishes on visual narrative in print (comics, photonovels, film photonovels, novelizations).
Praise for Poetry Performed
"Jan Baetens's Poetry Performed takes up the centrally important but oddly neglected truth that the reception of poetry is now primarily an oral phenomenon: the public poetry reading. What, he asks, ranging from Balzac's accounts of the nineteenth century salon reading to Kenneth Goldsmith's performances of appropriated text, is the relation of the written text to its oral counterpart? Does the latter merely embody the former by means of sound? Or can performance, as it does in the case of poets like Goldsmith take priority over what can be regarded as a given poem's "score"? And what about the return of the book as itself a multiplex object to be read, seen, and heard, as in Vincent Tholomé's poetry? In a series of fascinating readings, Baetens explores the relation of private to public, silent to voiced, written to oral. A delightful study that allows us to understand "poetry" and the "poetic" in a genuinely new way."
—Marjorie Perloff, Author of Unoriginal Genius: Poetry by other Means in the New Century
"For a poet to read a poem in public is so common nowadays that one is hardly ever inclined to think of it as a 'problem.' And yet the act of reading out loud, ubiquitous as it is, may well prove to be a more hazardous gesture than anticipated, the consequences of which, as Baetens brilliantly shows, could lead us to reconsider the very definition of poetry. In his brief, witty and highly original book—who would have thought to turn to a novel by Balzac, a film adaptation of Joyce's The Dead, or a graphic novel to interrogate the 'seamless' transition from text to voice?—Baetens surveys the history of French public readings since the nineteenth-century salons to our days and offers several illuminating case studies taken from the French contemporary poetic landscape. Although firmly grounded in the French context, this joyous study will be of interest to any reader willing to admit that innocence is no longer an option when considering poetry performed."
—Éric Trudel, Professor of French, Bard College
© 2021 University of Louisiana at Lafayette Press
Paperback | 154 Pages | 6" x 9" | ISBN: 978-1-946160-78-2