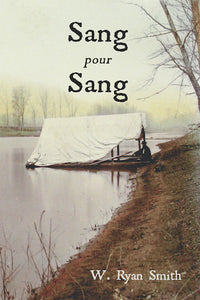 Sang pour Sang

by W. Ryan Smith

In the Spring of 1864, Adam Pierce is a Louisiana creole of color passing for white. His home, Natchitoches Parish and the Red River Valley, is being destroyed as the closing days of the Civil War bring destruction. Pierce, a depressed castoff of campaigns long past, enlists once again. The war gives Adam a sense of purpose, but what he isn't prepared for are the revelations that await him.
A reclusive widower, Adam learns through a deathbed confession what really happened to his lost family. Now, with the chaos of the war to mask his true intentions, he sets out on a one-way journey of revenge and redemption.
Sang Pour Sangexplores the frailties of the human condition as the depths of passion are navigated, suffering is redeemed, and mindless savagery envelopes those who were once ordinary people.
Praise for Sang pour Sang:
"Ryan Smith's debut novel is a tour-de-forceof action and interaction, a genuine literary work unique in its exploration of a culture and a conflict so far ignored in Civil War fiction. Smith's lively prose and attention to detail bring to life a cast of unforgettable characters, proving once again that the human heart in crisis remains at the center of all good fiction. Ryan Smith is a writer who bears watching."
–Howard Bahr, author of The Black Flower
"Set in the authentic landscapes of Louisiana, Sang Pour Sangdemonstrates that well-crafted fiction not only rests comfortably within the framework of accurate history, but that the historical narrative can only be enriched with such remarkable storytelling."
–Cheryl H. White, Ph.D., Louisiana State University at Shreveport
ISBN: 9781946160348

Softcover, 268 pp., ©2018

November 6, 2018