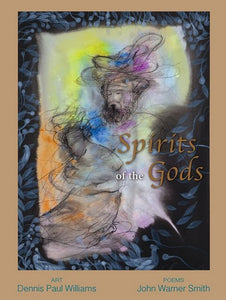 Spirits of the Gods
John Warner Smith, with art by Dennis Paul Williams
In the late spring and summer of 2016, Dennis and I set out to do a collaboration that we had talked about for some time. I would write poems inspired by his paintings. Dennis periodically sent me pictures of new paintings via his cell phone. I printed the images and began the writing process. I worked with one painting at a time, studying and meditating on it in search of a poem. The creation of each poem was always spontaneous, made in the moment of my contact with the painting itself. I would scribble notes on the back of each printed image . . . thoughts, feelings, symbols, metaphors . . . whatever the image conjured or inspired. Eventually, a poem was found and created. I wrote one poem at a time and did not move on to another one until I felt that the poem was finished.
Dennis's work is very spiritually grounded. As in the case of his art, the poems focus on inner, unconscious forces, "gods and demons" if you will, that influence how we respond to the outer world and who we ultimately become, individually and collectively. Some poems were born out of faith in religious belief, some out of myth. Some simply grew out of reflections on history and personal experiences, or were inspired by local, national, and global events that happened that summer. Each painting and poem is unique, but there is a definite spiritual and psychoanalytical underpinning to what was imagined. I hope that readers will discover that undercurrent when they see the paintings and poems side-by-side.
- John Warner Smith
Spirits of the Gods is John Warner Smith's third collection of poetry. His debut collection, A Mandala of Hands, was published in 2015 by Aldrich Press. Smith's second collection, Soul Be A Witness (MadHat Press, 2016) speaks truths of and to boys and men of color as only an African American son, father, and grandfather can. Smith's poems have appeared in Ploughshares, Callaloo, Antioch Review, North American Review, Tupelo Quarterly, Transition, Quiddity, and numerous other literary journals. His poetry has been nominated for a Pushcart Prize and for the Sundress Best of the Net Anthology. Smith is a three-time participant of the Callaloo Creative Writing Workshops. He is a Fellow of Cave Canem, the prestigious community of black poets founded in 1996 by Toi Derricotte and Cornelius Eady. Smith earned his MFA in Creative Writing at the University of New Orleans, where he completed summer residencies in San Miguel, Mexico, and Edinburgh, Scotland. He and his wife Narva live in Baton Rouge, Louisiana. His poetry can be found atwww.johnwarnersmith.com.
Dennis Paul Williams is perhaps most recognizable as the guitarist for Nathan and the Zydeco Cha Chas. In addition to his music with his brother's band, he has recorded one solo album of original acoustic music, Morning Light (2010), and has preformed on numerous other recordings.  He is currently recording music for a new solo release. Williams's artwork was the focus of the book Soul Exchange: The Painting of Dennis Paul Williams (Philip Gould, editor; UL Press, 2013). His work is represented by Stella Jones Gallery in New Orleans and Zari Gallery in London. It has been shown in Canada, Japan, and in cities across the United States from Los Angles to New York. Williams has been featured on Nightline with Ted Koppell, as well as on World Café and American Routes on National Public Radio. His art can be found at www.dennispaulwilliams.com.
ISBN: 9781946160010
Softcover, 84 pp., ©2017
October 17, 2017. Pre-order your copy now, and it will ship the week of October 17.