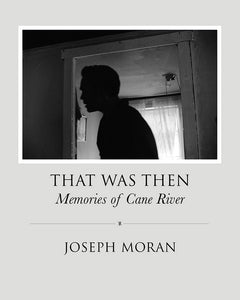 That Was Then: Memories of Cane River
by Joseph Moran
Cane River—also known as Isle Brevelle—is reputedly the oldest American settlement founded by and for people of color. Its origins date back to the late eighteenth century when Claude-Thomas-Pierre Metoyer, a French merchant, and his wife Marie Thérèse Coin-Coin, an enslaved African, established it as a sanctuary for their family. Over two centuries and several generations later, Cane River, Louisiana, remains home to descendants of its original founders.
That Was Then, Memories of Cane River is documentation through Joseph Moran's photographs of the historic settlement. As a resident of Cane River for twenty years Moran sought to express his reverence for the home of his ancestors by photographing average inhabitants, folk practitioners, and community life. The collection of photos was selected from hundreds taken over several years and includes portraits of people Moran had a special connection with and affection for.
Joseph Moran is an artist who lives and works in New Orleans, Louisiana. Moran resided in Cane River, the Franco-African community of his ancestors, for over twenty years. His photographs of the settlement were included in We Know Who We Are, an ethnographic study commissioned by the National Park Service for the Cane River Creole National Historical Park. A feature story in Louisiana Cultural Vistasmagazine of his photographs of and writing on Cane River was awarded best photo essay by the New Orleans Press Club. He was distinguished with the Louisiana Individual Artist Fellowship by the Division of the Arts, Louisiana Office of Cultural Development. Moran's work has been featured in exhibitions at the Museum of Fine Arts Houston, the Contemporary Arts Center, New Orleans, and is in the permanent collection of the New Orleans Museum of Art.
ISBN: 9781946160065
Softcover with flaps, 156 pp., ©2017
October 10, 2017.