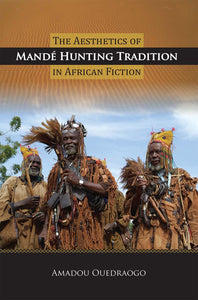 The Aesthetics of Mandé Hunting Tradition in African Fiction
by Amadou Ouédraogo
From its medieval origins to the present, Mandé culture in West Africa is known for its highly intriguing art and tradition of hunting; undeniably one of its most conspicuous distinctive features. Totally entrenched in myth, legend and history; firmly grounded in the supernatural, the divine and the abstruse, hunting is altogether a cult, a ritual gesture, a token of allegiance to divine forces. Considered to be a dauntless intrusion of man into the realm of metaphysics and the "unknown", the hunting vocation transcends by far the confines of human and tangible spheres.
This study examines various articulations of the hunting art and tradition as they are conveyed in numerous African literary and cinematographic works. It elucidates the mythical and supernatural magnitude of the hunting activity by showing how it is presided over by immutable deities and tutelary figures. Held to be endowed with infrangible supernatural and esoteric proportions, hunting is deemed to be a reflection of Mandé people's worldview, a vibrant expression of how they perceive and articulate their existence as part of, and in relation to the world. From all perspectives, traditional hunting in Mandé society is viewed as a noble, dignified and revered activity; sustained by a vehement sense of brotherhood, esprit de corps, faithful loyalty, compassion, munificence. It encompasses a set of principles and values enjoined by transcendent forces, in illo tempore, and meant to serve as timeless paradigmatic ideals to be preserved and handed down along generations. By persistently echoing the magnificence of the hunting art and tradition, African artists place the vocation at the heart of contemporary Africans' yearning quest for origins, identity and plenitude.
ABOUT THE AUTHOR
Amadou Ouédraogo holds a Ph.D. in African and Caribbean Francophone Studies from the University of Iowa, and a Doctorat 3ème cycle in African Anglophone Studies from the University of Grenoble (France). He is Associate Professor of Francophone Studies (Sub-Saharan African Literature and Film; Caribbean Studies) at the University of Louisiana at Lafayette. He is the author of three other books on African and Caribbean Studies. 
ISBN:  978-1-935754-97-8
Softcover, 166 pp., © 2017 by Sans Souci Books, an imprint of the University of Louisiana at Lafayette Press
Release date: April 4, 2017