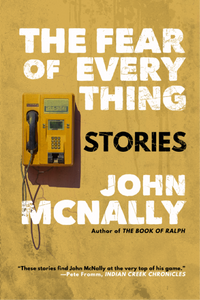 The Fear of Everything: Stories
by John McNally
About the book:
A magician shows up unexpectedly at a grade school. Retirees answer phone calls from lonely children. A sleep study assistant speaks to a patient about his own afterlife experiences. Twenty years ago, Richard Russo wrote of Troublemakers, "John McNally is an electrifying writer whose stories burrow under the skin. His world becomes our world, his way of seeing, ours. Resistance is futile." The same is true of these nine stories that are by turns fantastical, hilarious, and heartbreaking.
John McNally is author or editor of seventeen previous books, including The Book of Ralph: A Novel and The Boy Who Really, Really Wanted to Have Sex: The Memoir of a Fat Kid. A graduate of the Iowa Writers' Workshop, John is Writer-in-Residence and the Dr. Doris Meriwether/BORSF Professor in English at the University of Louisiana at Lafayette.
McNally on the art of short stories at Writer's Digest
McNally on methods to surprise readers at Writer's Digest
Interview by Mike Danahey at Free Craic
Largehearted Boy: John McNally's Playlist for His Story Collection The Fear of Everything
Fiction Writers Review Interview
Praise for:
"Like the magician in the first story of The Fear of Everything, John McNally is a master of sleight of hand, leading you, you think, one way, only to take you to someplace entirely different, entirely darker. And like the very best story writers, he can make you laugh all the way to the heartbreak, the shiver of realization when you finally see that things may not be quite as they seemed. Ranging from middle school classrooms to calls late in the night, from eerie disappearances to the people only longing for some kind of connection in the masterpiece title story, all these stories find John at the very top of his game."
—Pete Fromm, Indian Creek Chronicles
"The Fear of Everything is everything a short story collection should be. By turns hilarious, horrifying, and heartbreaking—and sometimes all three at once—these stories illuminate the glorious strangeness of the everyday world, in which the bright afternoons of childhood turn dark as quickly as a Midwestern sky fills with storm clouds, and ordinary people turn out sometimes to be monsters and sometimes to be capable of a kindness that surprises even themselves. With razor-sharp humor, big-hearted generosity, and a dash of the absurd, John McNally unearths an America of loneliness and longing, of vanished children and missing cats and men lost in grief, some of whom, now and then, are lucky enough to be found. An absolute delight."
—Matthew Griffin, Hide
"I finished reading John McNally's new collection, The Fear of Everything, and I've been thinking about it all day. He's one of those rare writers that can couple the absolute hilarity of life and its punch-drunk, deep-in-the-heart sadness, all in the span of a single page. Hell, a paragraph. These are fantastic stories."
—Keith Rosson, Smoke City
"[McNally] is in a tradition (mostly) of the mid-twentieth century American realism of Frank Conroy, John Cheever, and Richard Yates. But unlike those men, McNally's characters are much more eccentric, humorous, and all around entertaining. His newest collection of stories, The Fear of Everything, celebrates the confusion and chaos of an uncomfortable world."

—William Jensen, Cities of Men. Full review here.
Another Chicago Magazine Review
New York Journal of Books Review
Deep South Magazine Reading List
AVAILABLE SEPTEMBER 1, 2020
ISBN: 9781946160638
©2020

130 Pages | softcover