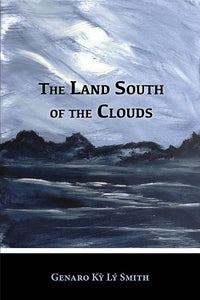 The Land South of the Clouds
by Genaro Kỳ Lý Smith
It is the summer of 1979--the year of Apocalypse Now, long lines at the gas pumps, and American hostages in Iran--and 10-year-old Long Vanh is burdened with the secret his mother, Vu-An, entrusted him to keep: not to tell anyone of her desire to return to Vietnam to be with her father who is serving hard labor in a reeducation camp.
As a con lai--half Vietnamese, half black--Long Vanh struggles to see his place in "Asia Minor," an enclave of Los Angeles comprised of veterans and their foreign war wives. He sees his inability to speak or read his mother's native language, or even maneuver chopsticks perfectly, as flaws, and hopes that if he can compensate for them, his mother will stay in America to keep the family intact.
The Land South of the Clouds serves as the companion piece to The Land Baron's Sun: The Story of Ly Loc and His Seven Wives. It is the story of immigrant families meshing into the fabric of American culture, their memories of the old country weighing on their conscience, and the repercussions they feel even from thousand of miles away on another continent, in another world, another life.
"Part coming-of-age, part historical family drama, part love story, and all good. Genaro Kỳ Lý Smith bravely tackles the tribulations of being biracial, the impact of a mother's abandonment, and the far-reaching consequences of war."
--Neil Connelly, author of The Midlife Crisis of Commander Invicible, Buddy Cooper Finds a Way, andSt. Michael's Scales
"Smith captures and holds the reader's interest with skills that are reminiscent of many of this country's finest writers."
--Kenneth Robbins, author of The City of Churches and Buttermilk Bottoms, winner of the AWP Novel Award and the Toni Morrison Prize for Fiction
"Genaro Kỳ Lý Smith skillfully balances the philosophical and the surreal in a powerful novel that explores identity in post-Vietnam War America. His unforgettable cast of characters ache with life and humanity as they struggle to find a place where they belong and the love that they deserve."
--Eric Nguyen, diaCRITICS.org

ISBN: 9781935754800
Softcover with flaps, 350 pp, ©2016
Release date: October 25, 2016. Pre-orders available now.