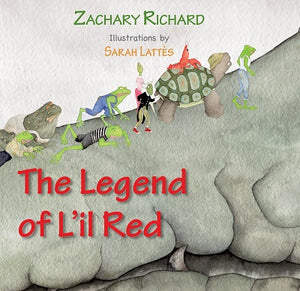 The Legend of L'il Red
by Zachary Richard; Illustrations by Sarah Lattès
The Legend of L'il Red is a fable in the Aesop's tradition for children of all ages. It is a story of friendship, persistence, tolerance, and love. The two principal characters, a blind turtle and a one-clawed baby crawfish, find each other in the middle of a hurricane. The Legend of L'il Red is the story of their adventures as they set off in search of a new claw for the little crawfish, encountering a host of incredible creatures and confronting big challenges along the way.
About the Author
Singer-songwriter, poet, cultural activist, and environmentalist, Zachary Richard is best known as a recording artist and performer with twenty albums to his credit. He is the author of four volumes of poetry, and Louisiana's first French language Poet Laureate. Fiercely attached to the French language and Acadian culture of his native Louisiana, he is Officer de l'Ordre des Arts et Lettres of the French Republic, Member of the Order des Francophones des Amériques, Chevalier de l'Ordre de la Pléiade, and Member of the Order of Canada.
About the Illustrator
Born in Paris in 1971, Sarah Lattès is an illustrator and multi-disciplinary visual artist. As a young girl of eight, Sarah was the inspiration for this tale, written for her by her step-father, Zachary Richard. Discovering the manuscrip twenty years later, as a surprise for her parents, she created the illustrations which eventually led to this publication.
Softcover, 52 pp., ©2015
ISBN: 9781935754749