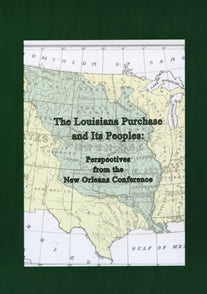 Perspectives from the New Orleans Conference
edited by Paul E. Hoffman
The Louisiana Purchase, often considered the greatest real estate deal in history, had many important political, economic, and social consequences. Not only did it double the size of the United States of America and secure possession of the Mississippi River for the Americans, the Louisiana Purchase also accelerated the political and economic development of the New World. By removing France from the continental landscape and marginalizing Spain and England, the Purchase placed the United States on the path to North American primacy.
But the Louisiana Purchase was much more than the geopolitical reorganization of a continent. These broader implications of the Louisiana Purchase were the subject of the Louisiana Bicentennial Purchase Conference, held in New Orleans in January 2003, as part of the year-long celebration marking the two hundredth anniversary of the transfer of Louisiana from France to the United States. The Louisiana Purchase and Its Peoples: Perspectives from the New Orleans Conference, is a collection of the papers presented at this meeting of respected scholars. Focusing on the entire Louisiana Purchase territory, this book encapsulates the wide range of experiences of the various groups impacted more directly by the Purchase.
Several chapters examine the political and economic aspects of the Louisiana Purchase from the perspective of the American, Spanish, French, and British governments; other essays focus on the perspectives of groups often neglected by historians—Native Americans, African Americans, women, visual artists, and cartographers. Scholars who contributed to this volume include, among others, Hans W. Baade, John B. Boles, Glenn R. Conrad, Joseph Ellis, Patricia Galloway, Daniel Usner, and Peter H. Wood. 
Taken as a whole, The Louisiana Purchase and Its Peoples is one of the most comprehensive examinations of the Louisiana Purchase available in a single volume.
Softcover, 330 pages, ©2004
ISBN: 9781887366519