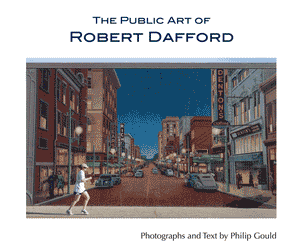 The Public Art of Robert Dafford
by Philip Gould
The Public Art of Robert Dafford provides a vivid depiction of the renowned artist's work through text and images by acclaimed photographer Philip Gould. 

Dafford is one the most prolific and successful American muralists working today, with over 350 large scale public works in the United States and overseas. His work has garnered him numerous awards--including the Bronze Medaille d'Honneur de la Suresnes, France, and an honorary Doctorate of Humane Letters from Shawnee State University (Portsmouth, Ohio)--and has been featured inSmithsonian, National Geographic, Southern Living, the New York Times, the Seattle Times, the Los Angeles Times, the Ottawa Sun, and Le Droit.

The Public Art of Robert Dafford focuses on murals painted along the Ohio and Mississippi River valleys and puts his work into the context of the towns surrounding the murals. As Gould notes, "Dafford's murals do not exist in a vacuum. They are vital parts of their respective communities."

Cities featured in the book include:  Baton Rouge, Louisiana; Covington, Kentucky; Lafayette, Louisiana; New Orleans, Louisiana; Maysville, Kentucky; Paducah, Kentucky; Point Pleasant, West Virginia; Portsmouth, Ohio; Rayne, Louisiana; and Vicksburg, Mississippi.
Hardcover, 224 pp., ©2014
ISBN: 9781935754527