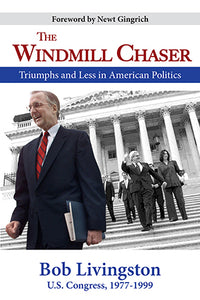 The Windmill Chaser: Triumphs and Less in American Politics
by Bob Livingston
(Foreword by Newt Gingrich)
Robert L."Bob" Livingston Jr. was born to an American middle-class family. His father left when he was very young, but Livingston and his sister were raised by a strong mother who gave them both a good education and a vigorous work ethic. From an early age, he was blessed with a sense of humor that would carry him through good times and bad.

After a successful career as a prosecutor in New Orleans, Livingston was elected to the United States House of Representatives in 1977. In addition to overseeing the only balanced budget in recent memory, Livingston, as Speaker-elect, oversaw the House proceedings that led to the impeachment of President Bill Clinton in 1998. In his memorable last speech to Congress, he maintained that Clinton had inflicted irreparable damage on the country by lying under oath. Having been threatened with the exposure of his own personal indiscretions, Livingston famously shocked the country and stunned his colleagues and constituents by abruptly resigning his seat in Congress, while challenging President Clinton to resign as well.

The story of Bob Livingston is an American story. He began with little, worked hard, and made a lasting impact on American politics. The story of his successes and his failures is compelling and instructive. He tasted fame and fortune. He learned from his mistakes and survived. He found redemption in a successful and vibrant career and in the love of his children and wonderful wife of fifty-two years. Today, he is a happy man.
About the author:
Robert L. Livingston Jr. is a founding partner of the Livingston Group and a distinguished former Republican member of Congress from Louisiana. Prior to his twelve terms in the U.S. House of Representatives, Livingston practiced law and served as a prosecutor at the federal, state, and local levels. A graduate of Tulane University and a veteran of the U.S. Navy, Livingston lives with his wife, Bonnie, in Alexandria, Virginia, and New Orleans, Louisiana; they have three sons, a daughter, nine grandchildren, and one great-grandchild.
 Advance praise:
"Bob Livingston has written a remarkably candid and courageous memoir. Virtually anyone could learn from this intriguing and very eclectic book. It is part biography, part New Orleans tales (a city always worth writing about), part political memoir, part public policy analysis and always personal and candid."
- Newt Gingrich, former Speaker of the U.S. House of Representatives
 "Bob Livingston is one of the smartest, most interesting people to serve in Congress in my lifetime. He's had an amazing life, and accrued a massive store of wisdom over the course of it. It's all in here, and well worth reading."
- Tucker Carlson, host Tucker Carlson Tonight
"Bob Livingston takes us through his remarkable life story, through victories, defeats, great accomplishments, and tragedies with candor, humility and more than a dose of humor. Bob's rise from junior member of the minority to the highest levels of the U.S. House of Representatives and meetings in the Oval Office exemplifies how Congress can and should work. Above all, it's a fun read!"
- Charlie Cook, Editor & Publisher, The Cook Political Report
 "Bob Livingston is a true fiscal hero at a time we don't have many of those left in Washington. He and Newt Gingrich were the action team in the House of Representatives that gave America it's only balanced budgets in the last 50 years. They did it by slamming the brakes on wasteful spending and growing the economy. Where is that leadership today?"
- Steve Moore, Distinguished Visiting Fellow, Project for Economic Growth at The Heritage Foundation
"In this no-holds-barred political memoir almost-Speaker Bob Livingston takes us on a rollicking tour of the courtrooms and city streets of Louisiana and the back rooms and Blue Rooms at the height of power in Washington.  You will laugh out loud at some shenanigans and perhaps weep in frustration at the polarization that paralyzes our government."
- Cokie Roberts, author and political commentator for NPR and ABC News
ISBN: 9781946160270
Available for PRE-ORDER,  Publication date: September 11, 2018
Hardcover with dust jacket
320 pp., ©2018