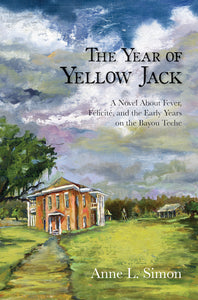 The Year of Yellow Jack: A Novel about Fever, Félicité, and the Early Years on the Bayou Teche
by Anne L. Simon
About the book
At the start of 1839, the small, south Louisiana town of New Iberia appears poised for prosperity. Acadian, French, English, and American immigrants have joined Spanish settlers in the area. Steamboats move up and down the Bayou Teche, carrying the products of the fertile land to market in New Orleans.
Across the bayou, Hortense Duperier enjoys a privileged life in a grand brick house with her husband, Fréderick, and their three children. Suddenly, Fréderick's untimely death and financial reverses force her to manage the estate on her own.
When signs of the dreaded yellow fever threaten an epidemic, Hortense turns to Félicité, an enslaved woman from Haiti. Together, the two women dispense Félicité's traditional remedies, defying the medical practices and social constraints of their time to save the young town.
About the author
Anne L. Simon, was born in the East and educated at Wellesley College, Yale Law School, and LSU Law School. She was elected as a general jurisdiction trial court judge and served until mandatory retirement. Since retirement, she has accepted a variety of ad hoc and pro tempore appointments by the Louisiana Supreme Court, served as an Appellate Court Judge for the four Indian tribes in Louisiana, and was the Louisiana Court Improvement Fellow for Children and Families. She is the author of Blood in the Cane Field, Blood in the Lake and Blood of the Believers, crime novels loosely based upon her experiences.
Praise for The Year of Yellow Jack
"Simon has created an intriguing amalgam of oral tradition, historical fact, and plausible imagination. The result is a work of realism unafraid to confront the harshness of antebellum slavery and the many ironies of Old-South race relations. Central to the work is the enslaved Haitian-born Félicité, who is often praised even today—in the real-life town of New Iberia—for her care of yellow-fever victims, no matter their races, all those generations ago."
–Shane K. Bernard, author of Teche: A History of Louisiana's Most Famous Bayou
"Anne Simon's captivating historical novel Yellow Jack takes the reader back to the settling of South Louisiana by the colonists and their African slaves. Meticulous in her concern for accuracy of detail, Simon has recreated that world of vaqueros and sugar cane, families black and white, the ferries that crossed the waterways and the steamboats that plied them. Through two remarkable women it also examines the social structure that both a privileged matron and a woman of color would have faced. Yellow Jack gives the reader a fascinating journey into a world from the past that has strong ties to the present day."
–Ann B. Dobie, Professor Emerita, University of Louisiana, Lafayette
"Yellow Jack describes nineteenth-century New Iberia and surrounding areas in such vivid detail that it's easy to forget this is a work of fiction. Infused with rich, believable characterizations of actual historic figures and events and three-dimensional depictions of enslaved men and women, Simon brings the period to gripping life."
–Phebe Hayes, Ph.D., Founder & President of the Iberia African American Historical Society; and Retired Professor & Dean, the University of Louisiana at Lafayette
210 pages
ISBN 9781946160584