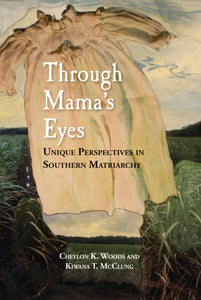 Through Mama's Eyes: Unique Perspectives in Southern Matriarchy

Edited by Cheylon K. Woods and Kiwana T. McClung 
About the Book
Through Mama's Eyes: Unique Perspectives in Southern Matriarchy looks at the concept of Southern matriarchy and how it has influenced American society. In 2016, the Ernest J. Gaines Center hosted a public program that explored the way women use physical space in literature. That program created many discussions of how the term matriarch is understood and applied, especially in the southern regions of the United States. Southern matriarchy is something that has been idolized and parodied in popular formats, such as movies and film, and the purpose of this book is to explore all of the faceted interpretations of southern matriarchy and its impact on our society. This book contains 17 interdisciplinary essays that each look at the way standard tropes of southern matriarchy are interpreted and challenged through literature, history, and the sciences. Like the program that inspired the book, each essay can be used as an invitation to engage in deeper conversations and research about southern matriarchy and its perceptions as a whole. This book is a compilation of curiosity and intrigue surrounding a societal structure that has influenced so many aspects of so many cultures across America—the Southern Matriarch.
About the Editors

Cheylon Woods is the Head and Archivist of the Ernest J. Gaines Center, which is located at the University of Louisiana at Lafayette. Mrs. Woods has actively worked to assist in the preservation of rural African American communities and the stories of the Matriarchs who worked tirelessly to hold those communities together.
Kiwana T. McClung is a Baton Rouge, Louisiana native, an Associate Professor in the School of Architecture & Design at the University of Louisiana at Lafayette and faculty advisor to the UL chapter of NOMAS, the student organization for National Organization for Minority Architects (NOMA). Kiwana's research concerns the socio-spatial intricacies of our increasingly globalized and multicultural societies and how they affect the built environment, architectural education, and the profession.
Praise for Through Mama's Eyes
"This is a rich and rewarding collection that takes us from antebellum motherhood to contemporary gendered spaces and datasets. Beautifully planned and executed. . . . A valuable resource for reading southern matriarchy across genres and centuries."
—Mary Ann Wilson, professor emerita of English, University of Louisiana at Lafayette 
"Through Mama's Eyes is an important addition to the scholarship on matriarchy in the American South.  With essays from diverse perspectives, it gives challenging new insights into the concept of southern matriarchy in culture and literature from the antebellum South to the twenty-first century."
—Marcia Gaudet, professor of English emerita, University of Louisiana at Lafayette
© 2021 University of Louisiana at Lafayette Press
Paperback | 296 Pages | 6" x 9" | $24.95 | ISBN: 9781946160744