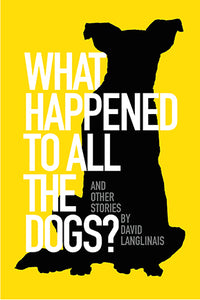 What Happened to All the Dogs?
About the Book:
What Happened to All the Dogs? And Other Stories is David P. Langlinais second collection of Louisiana-based short stories.
About the Author:
David Langlinais has published stories in numerous journals, including The Tishman Review, Clover, A Literary Rag, Concho River Review, Green Hills Literary Lantern, Deep South Magazine, Avalon Literary Review and Raleigh Review. Born and raised in Abbeville, Louisiana, he currently lives in Dallas with his wife, Brenda, and daughter, Juliette, where he works as a freelance writer.
Advance Praise:
"What Happened to All the Dogs? propels the reader through tales of loss and redemption, stories permeated with honesty, humor and humidity. As with his debut collection, Duck Thief and Other Stories, two-time Pushcart Prize-nominated author David Langlinais pulls back the curtain on the lives of everyday people coping with challenges as heavy as summer air hanging thick over a Louisiana bayou. Langlinais works the same literary vein as short story writers Tim Gautreaux and Chris Offutt by weaving his tales with an engaging, authentic voice that's refreshingly candid and straightforward."
- Daniel J. Hale, Agatha Award-winning author
ISBN: 9781946160317
Softcover

160 pp., ©2018