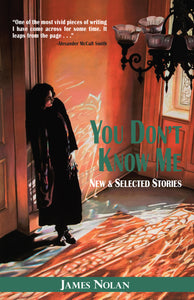 You Don't Know Me: New & Selected Stories

by James Nolan
Praise for You Don't Know Me:
". . . a very fine book indeed. You Don't Know Me shows the range and power of James Nolan's writing. His sharp eye and lively prosebring a whole world to light in the space of a few pages. Nolan isa superb writer and these highly atmospheric stories deserve awide audience."
-Alexander McCall Smith, author of the No. 1 Ladies' Detective Agency novels
"James Nolan is New Orleans' master storyteller. If Flannery O'Connor had been a bad boy living in the French Quarter, she'd have been James Nolan. These stories are wise, marvelous, funny."
-Andrei Codrescu, NPR commentator and author of The Blood Countess
"In his remarkable new collection, You Don't Know Me, James Nolan is a magician who can simultaneously inhabit the psyches of an18-year-old pregnant Latina, a romantically-challenged 32-year-old gay man, a world-famous black pianist with a heart condition, and many other true New Orleanians. Nobody writes as knowledgeably about this city, unless you count John Kennedy Toole."
-Julie Smith, author of the Skip Langdon mysteries
"These are big stories, not afraid to venture into ruined cities and ruined hearts . . . stories bold to tackle big themes with perfect detail."
-Tom Franklin, author of Crooked Letter, Crooked Letter
"To read You Don't Know Me is to encounter the soul of New Orleans— funny, wicked, murderous, hot, bothered, sweet, lonely, gentle, eccentric, tragic, nostalgic, a little broken- hearted, and very wild. These exhilarating stories impart sudden, surprising intimacy. You realize you are falling in love."
-Moira Crone, author of What Gets into Us
In this poignant collection of new and selected short stories, James Nolan swings wide open the courtyard gates of a city fabled both for its good times and bad. With ten new stories plus ten from his acclaimed previous volume, Perpetual Care, he introduces us to a village of universal characters in conflict: white, black, and Hispanic; young, middle-aged, and elderly; straight and gay; women and men. We meet fatherless boys and Creole spinsters, a pregnant teenager, a famous pianist searching for his roots, a crooked homicide detective, a Carnival-parade king hiding in a Dunkin' Donuts, a pistol-packing babysitter, and a codger who plots to blow up an overpass. These stories take us from the secretive hive of the French Quarter to decaying cemeteries, from hurricane-flooded Gentilly to family dramas in the suburbs. With mordant dark humor, James Nolan paints a wry, disturbing but affectionately human portrait of his home town for those who think they already know New Orleans, and what it means. But until you turn the addictive pages of these stories, you don't—not really. 
James Nolan, a fifth-generation New Orleans native, is a widely published fiction writer, poet, essayist, and translator. His twelfth book, Nasty Water: Collected New Orleans Poems, came out last year with the University of Louisiana at Lafayette Press, and his recent Flight Risk: Memoirs of a New Orleans Bad Boy(University Press of Mississippi) won the 2018 Next-Generation Indie Book Award for Best Memoir. His fiction includesYou Don't Know Me: New and Selected Stories(winner of the 2015 Independent Publishers Gold Medal in Southern Fiction), the novel Higher Ground(awarded a Faulkner/Wisdom Gold Medal), and Perpetual Care: Stories. He has been the recipient of an N.E.A. grant and two Fulbright fellowships, and has taught at universities in San Francisco, Florida, Barcelona, Madrid, and Beijing, as well as in Orleans.    
ISBN:  9781935754343
Softcover, 280 pp., ©2014